Check out our Sacramento News & Review Publication!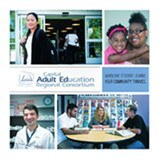 The Capital Adult Education Regional Consortium (CAERC) is building a new future for adult education!
Read inspiring adult education success stories and learn about the programs offered in the Capital region.
Learn about how to get a job certificate and/or associate degree and read about the Los Rios Community College District.
Visit our Schools & Organizations page to learn about programs and classes available. Discover how you can start your future with adult education!